Join us as we honor our Alabama Humanities Fellows of 2022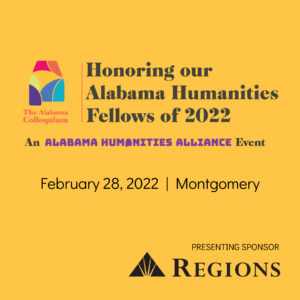 The Alabama Humanities Alliance bestows its highest honor to Alabamians who have made our state and nation a smarter, kinder, and more vibrant place to live. All through the humanities.
Since 1989, we've honored writers and historians, community leaders and big thinkers, civil rights icons and storytelling legends. Alabamians who challenge us to examine what it means to be human. And who help us see our state's diverse communities, rich cultures, and fellow neighbors more clearly — and with more empathy.
On February 28, 2022, we'll add two more Fellows to these ranks at The Alabama Colloquium in Montgomery, presented by Regions. Join us as we honor Bryan Stevenson, founder of the Equal Justice Initiative, and the late Rep. John Lewis. Tickets are now on sale. 
Event details
DATE + LOCATION
Feb. 28, 2022
Renaissance Montgomery
201 Tallapoosa Street | Montgomery, AL 36104
SCHEDULE
9am | closed tour of The Legacy Museum (premium ticketholders)
11:30am | luncheon
noon | program
PROGRAM
•  A conversation between Bryan Stevenson, and NPR's Michel Martin
•  An original poem by Alabama Poet Laureate Ashley M. Jones
•  A tribute to the life and legacy of John Lewis
•  Award presentations + audience Q&A
AWARDS
The Alabama Humanities Alliance will present the following awards at The Alabama Colloquium 2022:
•  Alabama Humanities Fellows
•  Wayne Greenhaw Service Award
•  Charitable Organization in the Humanities Award
Learn more about these awards and our past honorees.